---
As sole proprietor of GBL Media Management, Bradshaw Lambert currently manages and consults several select artists out of his Old Town office in Pasadena, CA

As co-founder of BONG LOAD CUSTOM RECORDS (BECK, KYUSS, FU MANCHU, ELLIOT SMITH) Bradshaw co-launched the independent label (with multi-platinum Bong Load producer/partners Tom Rothrock and Rob Schnapf) that discovered the iconic Grammy award-winning artist known as Beck.

Originally launched out of his L.A. apartment, Bradshaw helped catapult Beck to stardom by pressing and sending the first 500 copies of the 'Loser' vinyl 12" single to college radio and alternative radio formats. With it's famed chorus: "Soy un perdidor, I'm a Loser baby, Why don't you kill me..." Bong Load then delivered the video for 'Loser' to MTV and the rest was history. Bong Load would upstream Beck to Geffen Records, where he delivered his groundbreaking "Odelay" release, which would go on to win two Grammys in 1997. In 2000, his "Mutations" CD won a Grammy for Best Alternative Music Performance. Beck has won five Grammy Awards total, including Best Rock Album and Album of The Year honors in 2015 for his "Morning Phase" opus. Bradshaw sold his shares to current Bong Load Custom Records owner Tom Rothrock who relaunched the label in 2016.




Bong Load Records relaunches and re-releases Beck, Elliott Smith, more on vinyl LPs from Las Vegas - Las Vegas Weekly
​lasvegasweekly.com/ae/music/2016/jul/29/bong-load-records-relocates-to-las-vegas-reissues/

---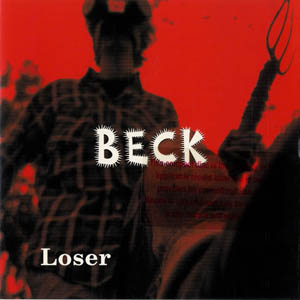 PROFESSIONAL BIO: 91X Radio, A&M Studios, Jimmy Iovine, Rondor, Record Plant, Bong Load Custom Records: Bradshaw began his career in the music business at 91X Radio in San Diego. From there, he went to world-class A&M Studios (owned by Herb Alpert & Jerry Moss) in Hollywood, where he was hired by Paul Sloman (Atlantic Records) and employed by Producer Jimmy Iovine (UMG/Interscope/BeatsByDre).

After a transition to A&M's publishing division Almo-Irving Rondor Music, he was hired by legendary Record Plant recording studios. It was there that he connected with upstart Bong Load Custom Records producers Tom Rothrock and Rob Schnapf. Together, the trio began to operate an independent label outside of the major label eco-system, creating music without regard for mainstream.

As Tom & Rob began producing in studio, Bradshaw began manufacturing, marketing, promoting, selling and distributing Bong Load copies of Beck's 12" vinyl 'LOSER' single to alternative radio stations and to retail outlets around the country. Original Bong Load offices were based in his apartment. Bong Load distribution was courtesy of his 1970 Buick Skylark. Once Beck's song 'LOSER' exploded on the alternative radio airwaves and on to MTV, Bong Load upstreamed Beck to Geffen Records but remained involved in his career. Due to an unconventional contract, the independent label was allowed to press vinyl for subsequent releases. Beck would soon be on the covers of Rolling Stone Magazine, Spin, Billboard and music magazines around the globe.

Beck's Bong Load single, 'Loser' was ranked first place in the 1994 Village Voice Jazz and Pop critics poll. In 2004, the song was ranked number 203 in Rolling Stone's 'The 500 Greatest Songs of All Time'. In September 2010, Pitchfork Media included the song at number 9 on their 'Top 200 Tracks of the 90s'. VH1 ranked the song 22 on their list of the '100 greatest songs of the 90's'.

Beck received his first Grammy nomination in 1995. in 1997, his sophomore release 'Odelay' won Grammy Awards for Best Alternative Album and Best Male Rock Vocal Performance for his song "Where It's At". Beck's 'Mutations' CD won Best Alternative Album at the Grammys in 2000. For 2015, he's added to his Grammy collection with honors for Best Rock Album and the prestigious Record Of The Year award for his Morning Phase release.


---
---

GBL MEDIA MANAGEMENT is currently representing legendary hit songwriter JACK TEMPCHIN and a select roster of new artists. Jack Tempchin has composed or contributed to a total of five multi-platinum hits for the EAGLES, an iconic American band with over 150 million records sold worldwide. Tempchin wrote 'Peaceful Easy Feeling' and 'Already Gone', both on Eagles Their Greatest Hits: 1971-1975, which was awarded Best Selling Album Of The 20th Century by RIAA. He also co-wrote "The Girl From Yesterday", "Somebody" and "It's Your World Now" for the Eagles.

During the Eagles hiatus, Tempchin was the primary co-writer on hits for Glenn Frey's solo career. He has also crafted songs for George Jones, Emmylou Harris, Glen Campbell, Trisha Yearwood, Patty Loveless, Johnny Rivers and others. Recently, he released two new 'Peaceful Easy Feeling' wines. In 2015, Jack Tempchin has signed a deal with label Blue Elan Records. For 2016, he starts the year with a tour of Japan and will then release a new CD on Blue Elan.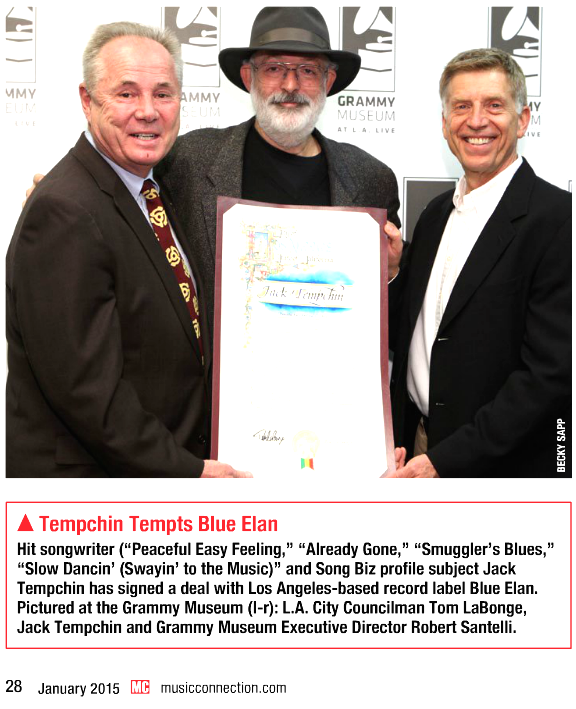 ---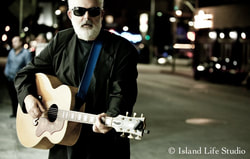 AXS Exclusive: Jack Tempchin signs dream deal with Blue Élan Records
When Bradshaw Lambert, founder of GBL Media Management and co-founder of Bong Load Custom Records (Beck), saw an ad in the music trades from a new record label that promised to honor the integrity of the creative process, his curiosity was piqued. "My manager was so intrigued that they put the word 'integrity' in the same phrase as 'new label' that he had to call them to learn more. They already knew who I was, so they said, 'Come on in, we want to talk to you,'"
Jack Tempchin
told AXS.com in an exclusive interview.
Tempchin is a goldmine of enduring artistry. He is responsible (either in part or in whole) for such hits as "Peaceful Easy Feeling," "Already Gone," "Smuggler's Blues," "Slow Dancin' (Swayin' to the Music)," and numerous other classics.
For his first record, Jack enlisted the help of a young up-and-coming electronic music producer (Joel Piper). "We had been working together and getting to know each other and we thought, 'What if we could take all his musical experience and match it with my 40 years of songwriting? What if we could bridge that gap and make something special together?' We didn't even know if it was possible, but when we started doing it, it just blew my mind! This music is very different from anything I've ever done."
"I just finished the record yesterday," Jack continued. "Now, I have to sequence it and turn it in. I haven't been so excited in many, many years. In fact, the last real record deal I had was when Clive Davis signed me in 1978. It's just amazing!"
Read the entire Press Release here on AXS
-AXS Exclusive written by Allen Foster
For more information on Jack Tempchin, like him on
Facebook
, and follow him on
Twitter
. For more information on Blue Élan Records, visit their
website
.
---
"HE IS THE BEST! YOU COULD NOT DO BETTER THAN HAVE HIM HELPING WITH YOUR MUSIC CAREER..." -Jack Tempchin

JACK TEMPCHIN WRITES: NEWS FLASH: BRADSHAW LAMBERT SCORES LAZY WASHED UP SONGWRITER JACK TEMPCHIN WHAT AXS.COM IS CALLING 'A DREAM DEAL' Super music attorney Neville Johnson says: "This is the best recording contract I've ever seen."

A career needs to be invented. It needs to be thought out and created and written like a song... As my manager, Bradshaw has made opportunities for me where there were none. He has found gigs where there were no gigs. Without him, I would never have the 'dream deal' with new label Blue Elan Records, and I would not be turning in this new record. In fact, my career would consist of watching TV and waiting for someone to call and ask for a song of mine to record.


Bradshaw is my secret weapon; in fact, he is my entire organization. Now, if he can make this happen, what else can he do? He is the best! If Bradshaw had not started helping me with my career, I would have no career. I asked him to remodel my career, and he built it a whole new house.

There is no career path for a person in my position. Bradshaw creates a way forward and then makes it happen. A new path has to be created as the ground keeps changing under you as the music business goes in a wild new direction every day. You could not do better than to have him helping with your music career."

- JACK TEMPCHIN, Hollywood, CA 2016


---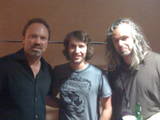 As a veteran music professional with 30 plus years of solid music experience, Bradshaw embraces the art of hands-on artist development, with a diversified background in A&R, artist management, record label management, music publishing, retail marketing, radio promotion and programming, social media. Other pop music clients he's been in service to are Chas Sandford, David Lasley, Tom Rothrock, Willie Wisely, Jim Huff and Joel Piper. (Pictured with: Ed Sheeran, Steve Earle & Jack Tempchin, Jim Lauderdale, Jason Mraz at Sunset Sessions, with Jack Tempchin at Grammy Museum, with James Blunt & Tom Rothrock)

---